2x QTX QR12A, 2x 600w QTX Active Subwoofers, stands, mixing desk , 2 wired vocal microphones, 2 mic stands, all cables required
Need a monitor? Add one to the set up for just £15!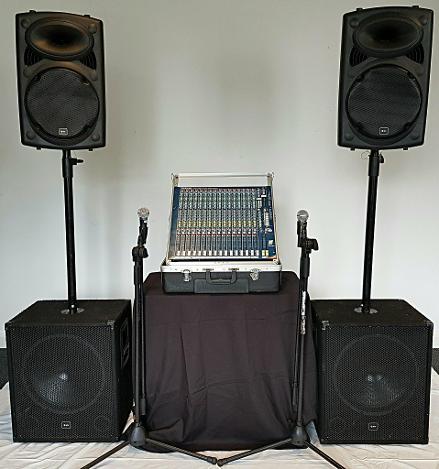 This package comes with everything an acoustic band will need. With 2 QTX QR12A, 2x QTX Active subwoofers, poles, an Alesis Multimix 8 fx mixing desk, 2 wired vocal microphones, 2 mic stands, plus all of the cables required, so you will have everything you need.
This package is perfect for any venue with an audience size of up to 100 people. With the clarity provided by the 12" speakers and a bass guitar, kick drum being enhanced by the 15" subs it is ideal for an acoustic band. The desk provides 4 XLR/Jack inputs and 2 stereo inputs alongside AUX send/return, L/R monitor output and L/R main output. This means that 2 guitars and microphones can be run simultaneously using the 4 main inputs, this could be run alongside a stereo input of a laptop or mobile device for backing track capabilities. There is also a an optional footswitch input that can be used to control the range of onboard effects provided by this desk including delay, reverb and all the usual effects. If you wish to have a live recording of the audio from this desk, the USB connectivity makes this simple.
If you do not require 2 vocal microphones but need something else? Get in Touch and we may be able to swap items for you from the additional extras to give you exactly what you require. (This depends on which items and the availability of these item on your requested dates)
Have a bigger venue in mind? Our Basic Package is recommended for larger audience numbers.