2x 15" 500 watt active speakers, 2x 18" 1000 watt active subs, mixing desk (up to 16 channel if required), 2 wired vocal microphones, 2 mic stands, speaker polesand all cables required
In need of wedge monitors to go with your hire?
Just let us know and we can add them to your hire for £15 each per day!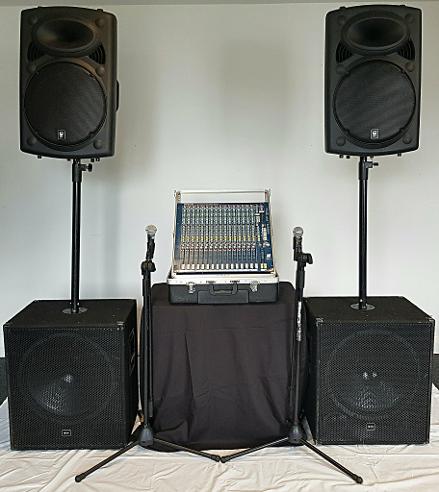 Photos included are for reference only
This package is ideal for any size band playing to an audience up to around 0-100 people. The 2 QTX QR15A active tops along with 2 QTX QT18SA active subs means you can have a bright top end and still have a deep low end sound to the mix; this is an especially useful package if you want your audience to hear a prominent kick drum and bass guitar.
The Allen & Heath Mixwizard is one of the top analogue desks to have in the industry. This easy to use 16 channel mixer with built in switchable effects, 4 aux sends for monitors 2 stereo channels along with lots more uses is ideal for mixing in all kinds of live band situations which makes mixing your own sound even easier; everything is at your finger tips.
If you require more than the 2 vocal microphones provided then have a look at the Equipment Hire page for other equipment we have to offer. If you cannot find something then Get in Touch and we will be able to help you obtain exactly what you require.